Travosh: 
Branding & eCommerce Website


Redefining shopping for pre travel experience
Travosh is first of its kind, one stop destination for pre-travel shopping. It is an online platform, that strives to put your shopping needs for upcoming journey at rest.
Originating from the background of hospitality tourism, the stakeholders of Travosh, approached us to give a shape to their entrepreneurial idea by creating an identity and online presence for the brand.
Challenge
Bringing a change in shopping behaviour for the travellers of today.
Approach
Become a guiding companion to enable smart travel.
A blend between travel and e-commerce​​​​​​​
Conducting an user study, it has come to our understanding, that most travellers shop for their tour from retail stores and existing eCommerce platforms using their own understanding of travel requirement. Drawing their attention to a new perspective of travel required shopping, needed an impactful brand presence. 
In this competitive scenario, to help Travosh reach out to it's rightful audience, we have incorporated the essence of travel in it's foundation. This includes building an image and structuring of the content strategy based on idea of exploration, while retaining the functionality of a traditional eCommerce website.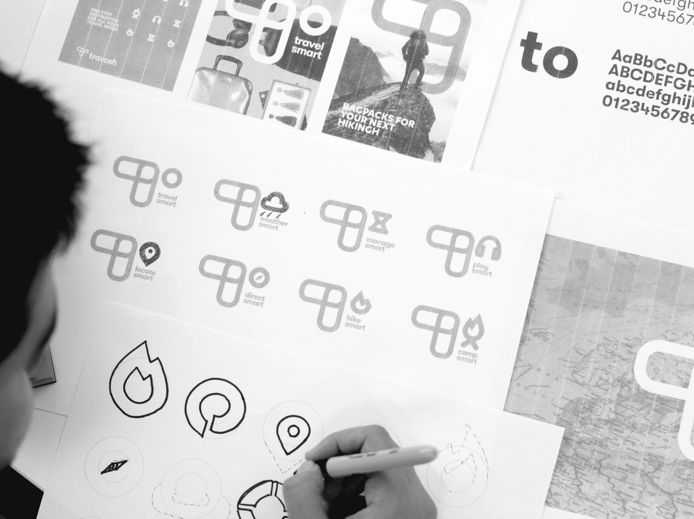 Shopping utility tool for smart travel
Working from our findings, we built a brand image to bring out Travosh's unique offering of being a guiding beacon of shopping needs for the journey to come.
Drawing inspiration from a multi-tooled pocket knife, our brand idea for Travosh is to portray it as a shopping utility tool for travel. This roots from the brand's versatile but unique product offering and the structured way it plans to offer it to customers. The symbol is an abstraction of its diversity, dynamism and flexibility as a commodity which portrays that Travosh can provide results based on the user's needs.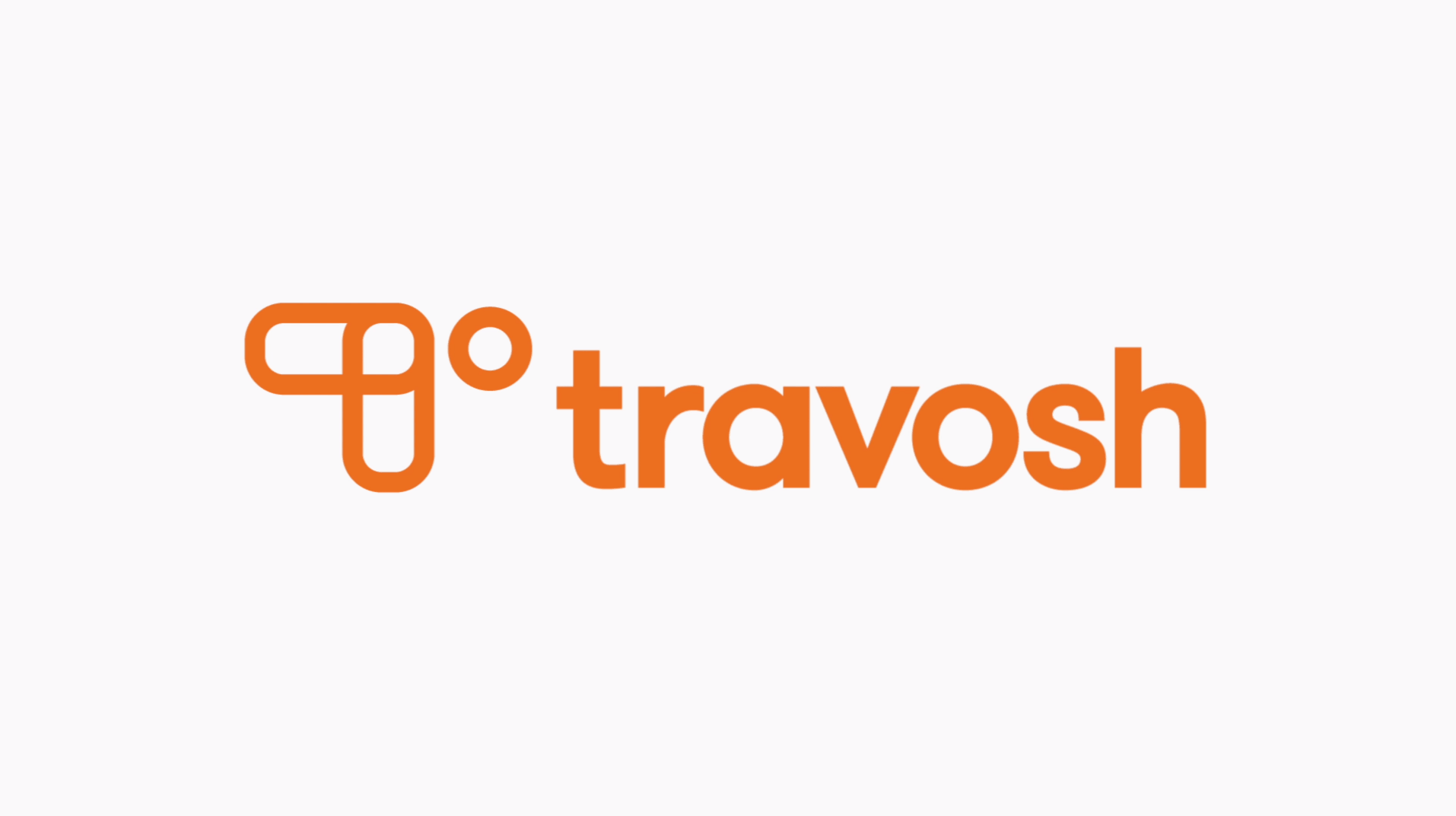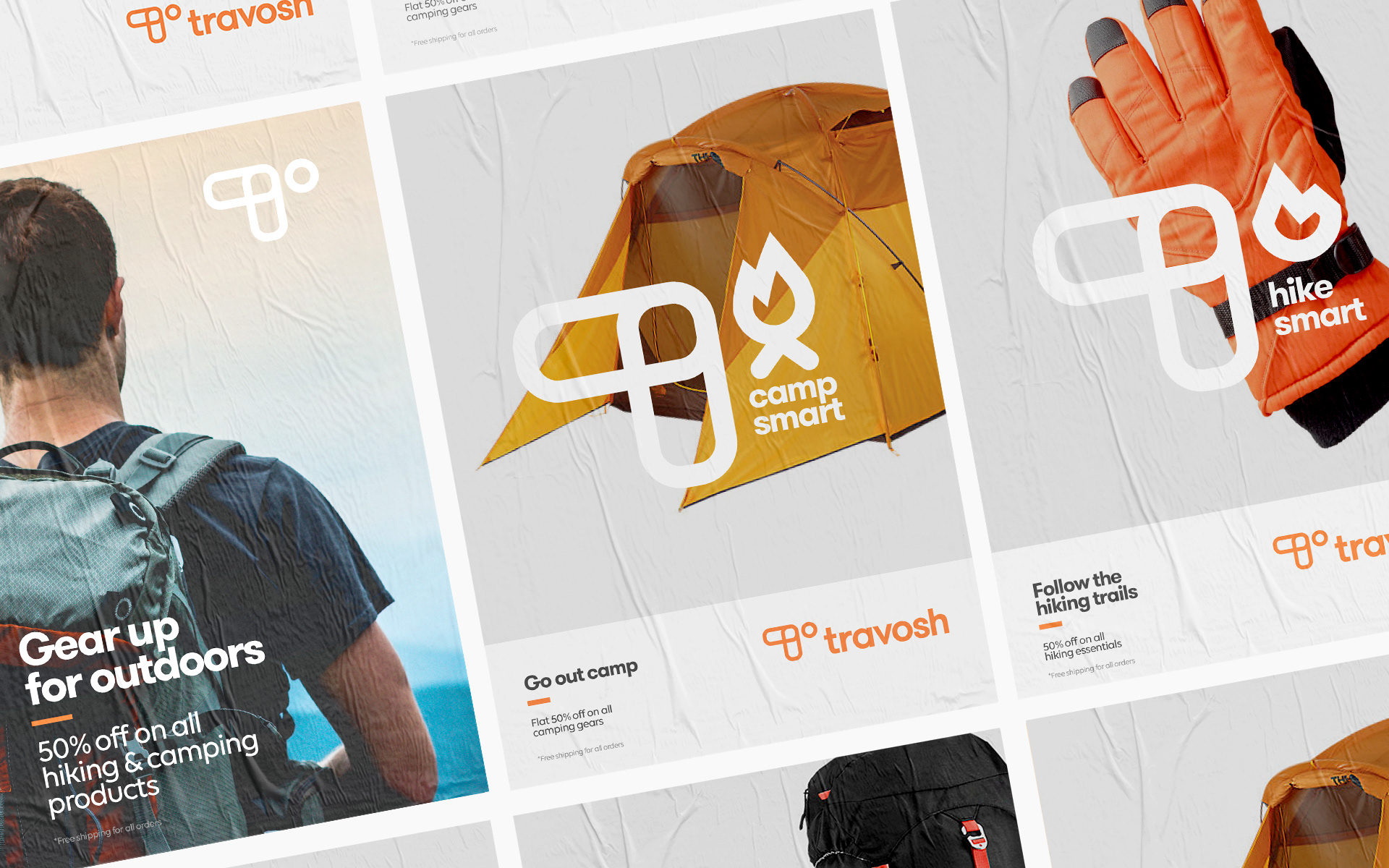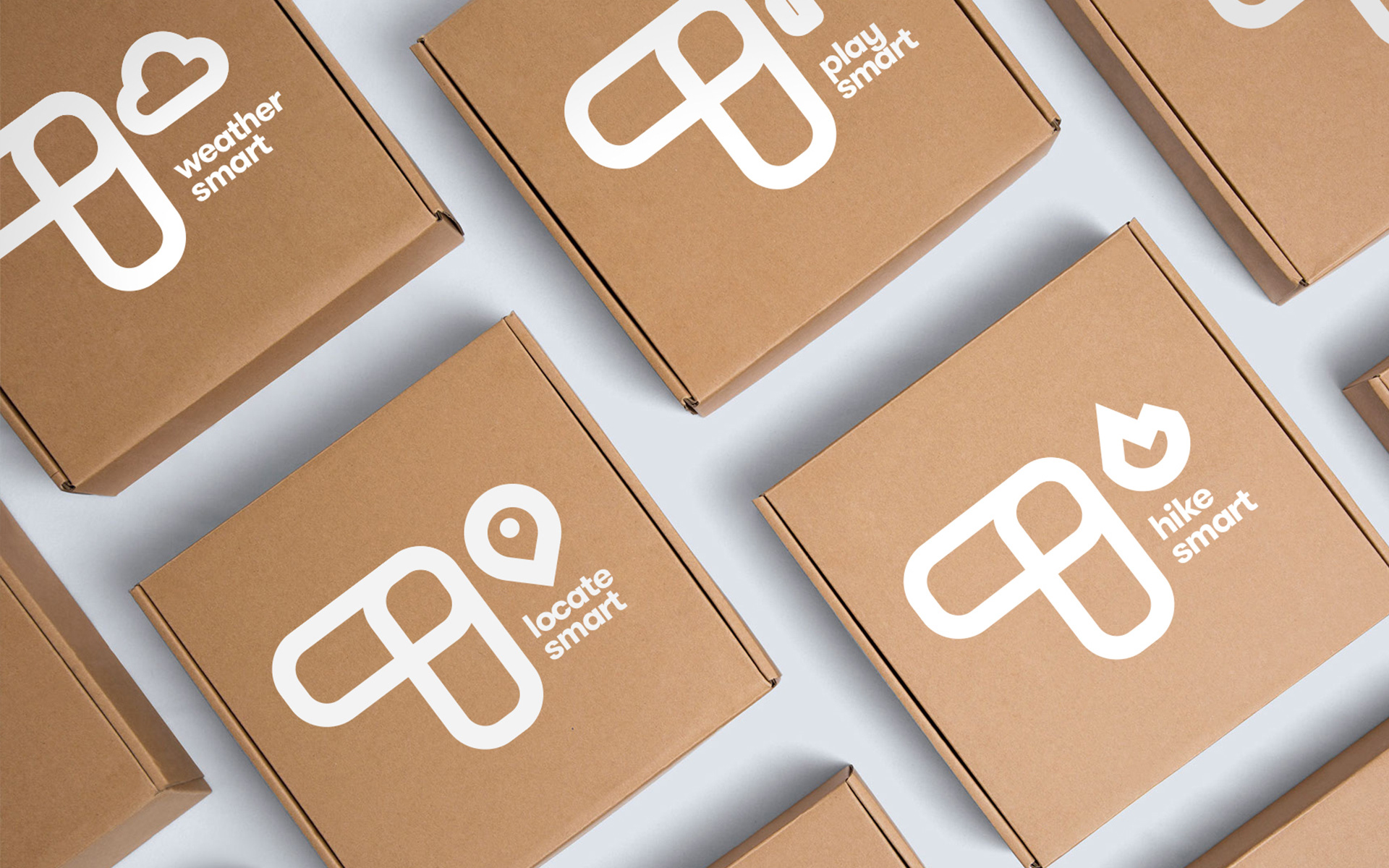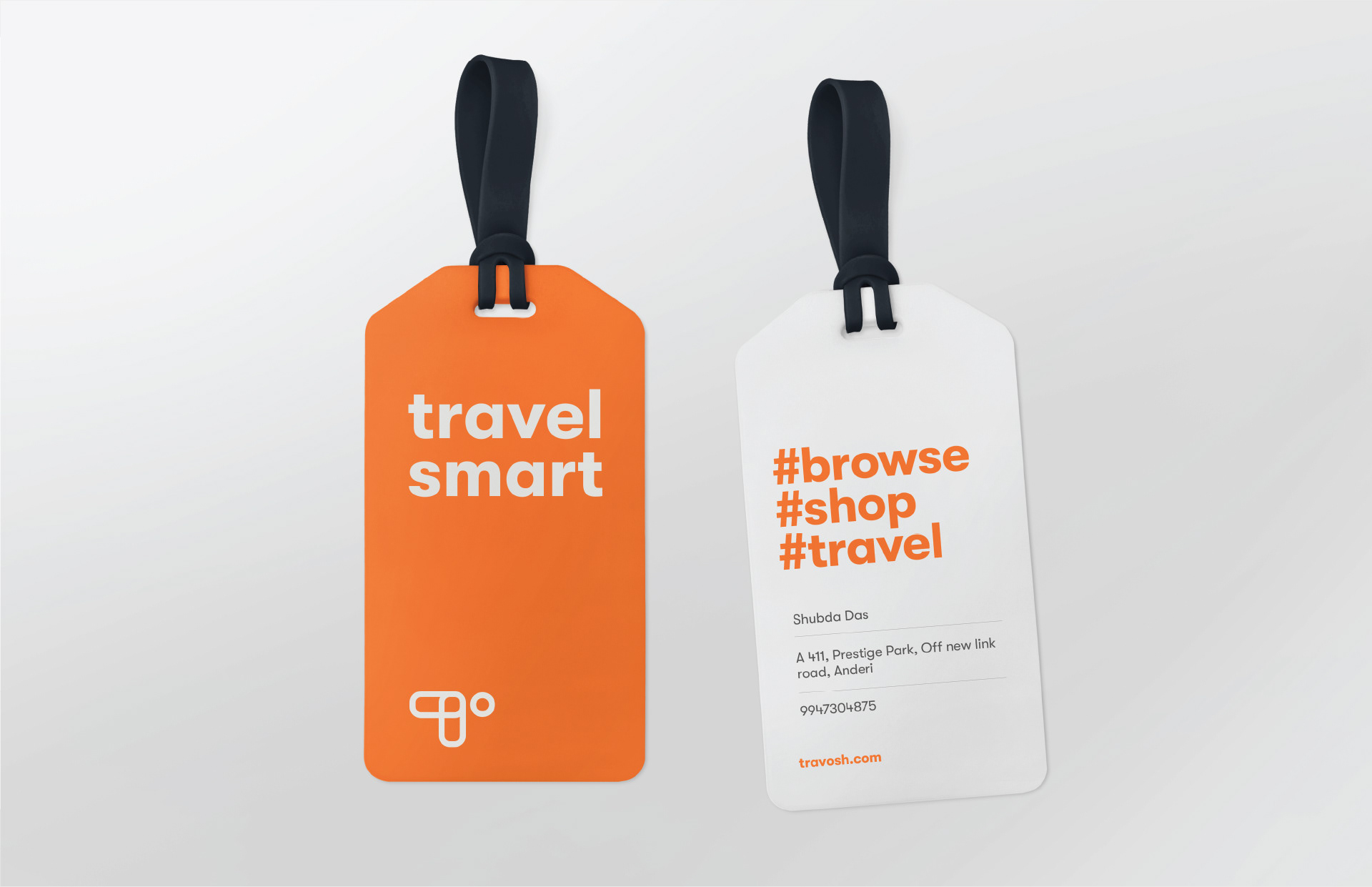 A new platform, challenging the look and feel of a traditional  online stores.
Travel and explore is the guiding thought for building this shopping platform. This influenced us to break out of the traditional eCommerce experience, but not to abandon the eCommerce functionality. To introduce this understanding to our product, we adopted an outdoorsy look and feel for our imagery, keeping travel products in focus. Achieving this quality, we were able to extend Travosh's unique brand image to the eCommerce platform.
Travel at heart, eCommerce in soul

​​​​​​​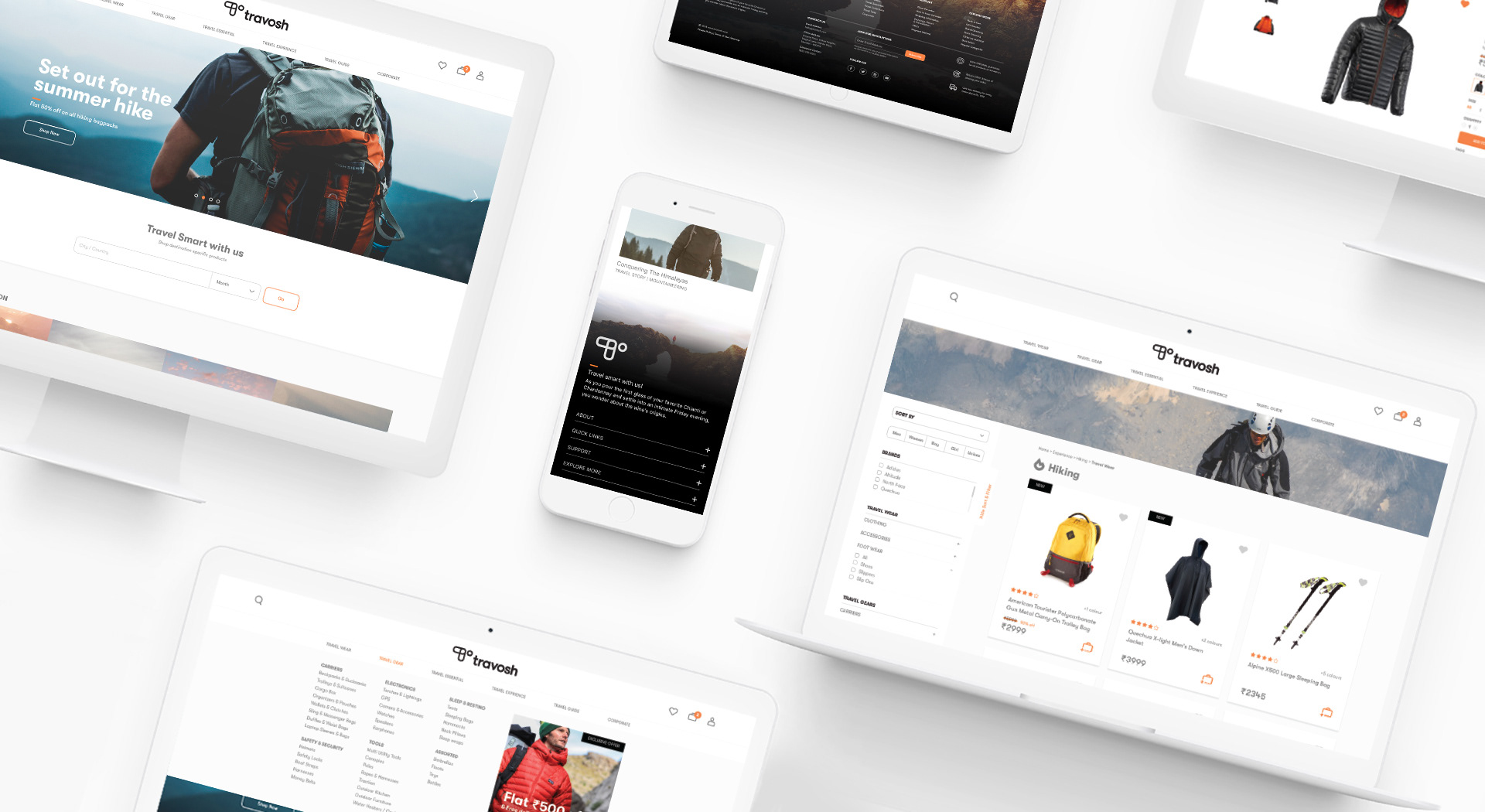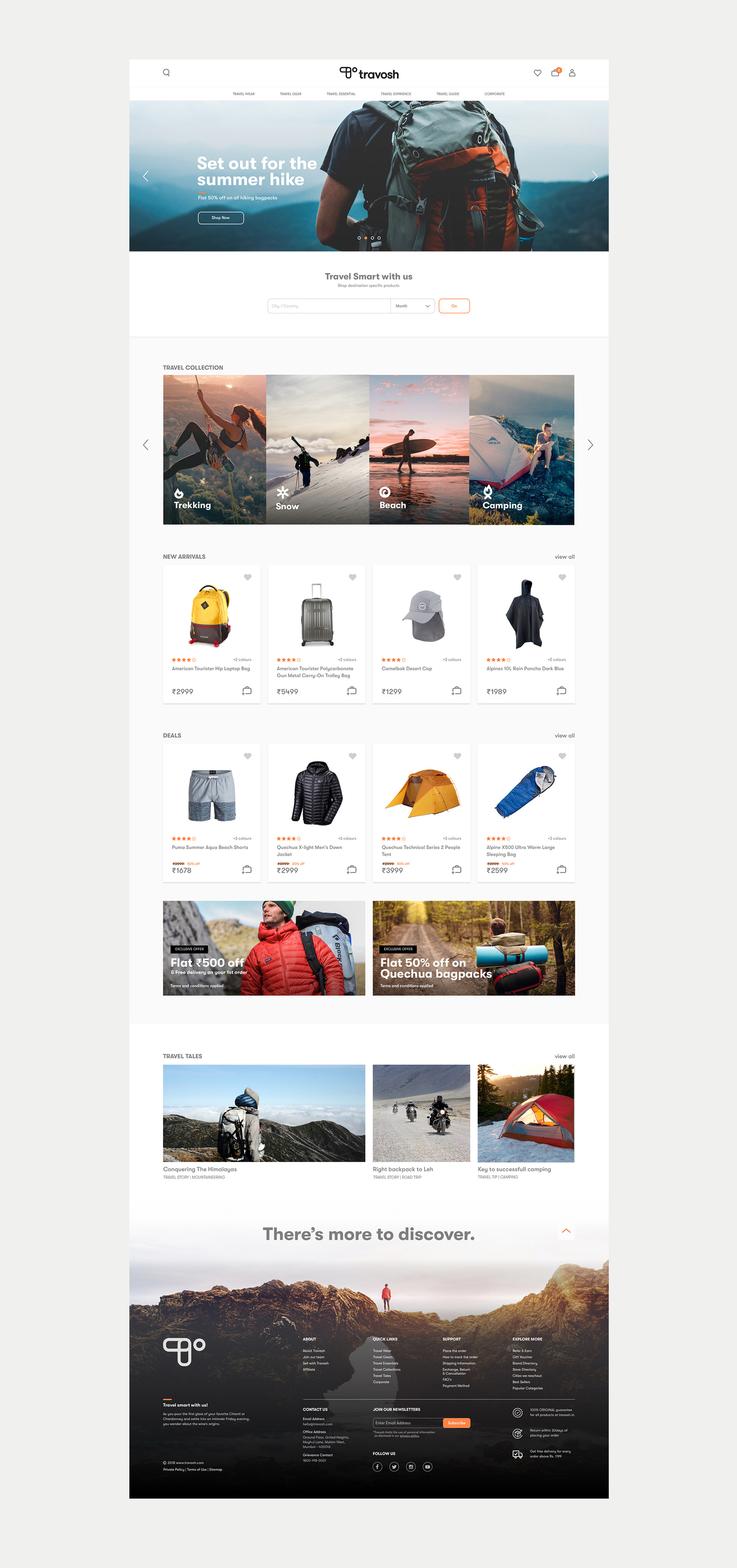 One stop for all destinations needs
What sets Travosh apart is its ability to curate and plan smart. It handpicks and recommends products to the traveller according to their destination and month of travel. Friendly website navigation helped the user explore these curated products.
Travosh also fills travellers in with destination and month-specific weather information. Plus travel itineraries, must dos and even alerts and warnings in case of calamities or other threatening situations. The website displayed these specific pieces of information in an engaging and interactive form.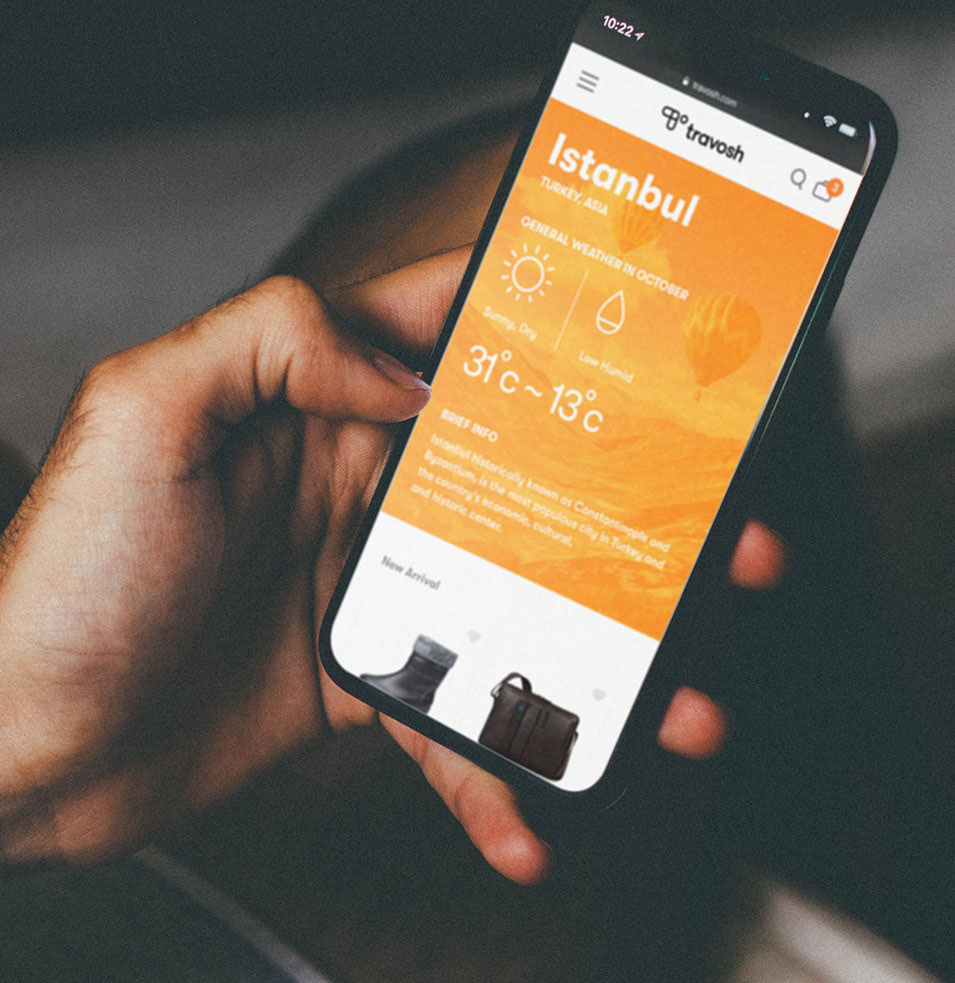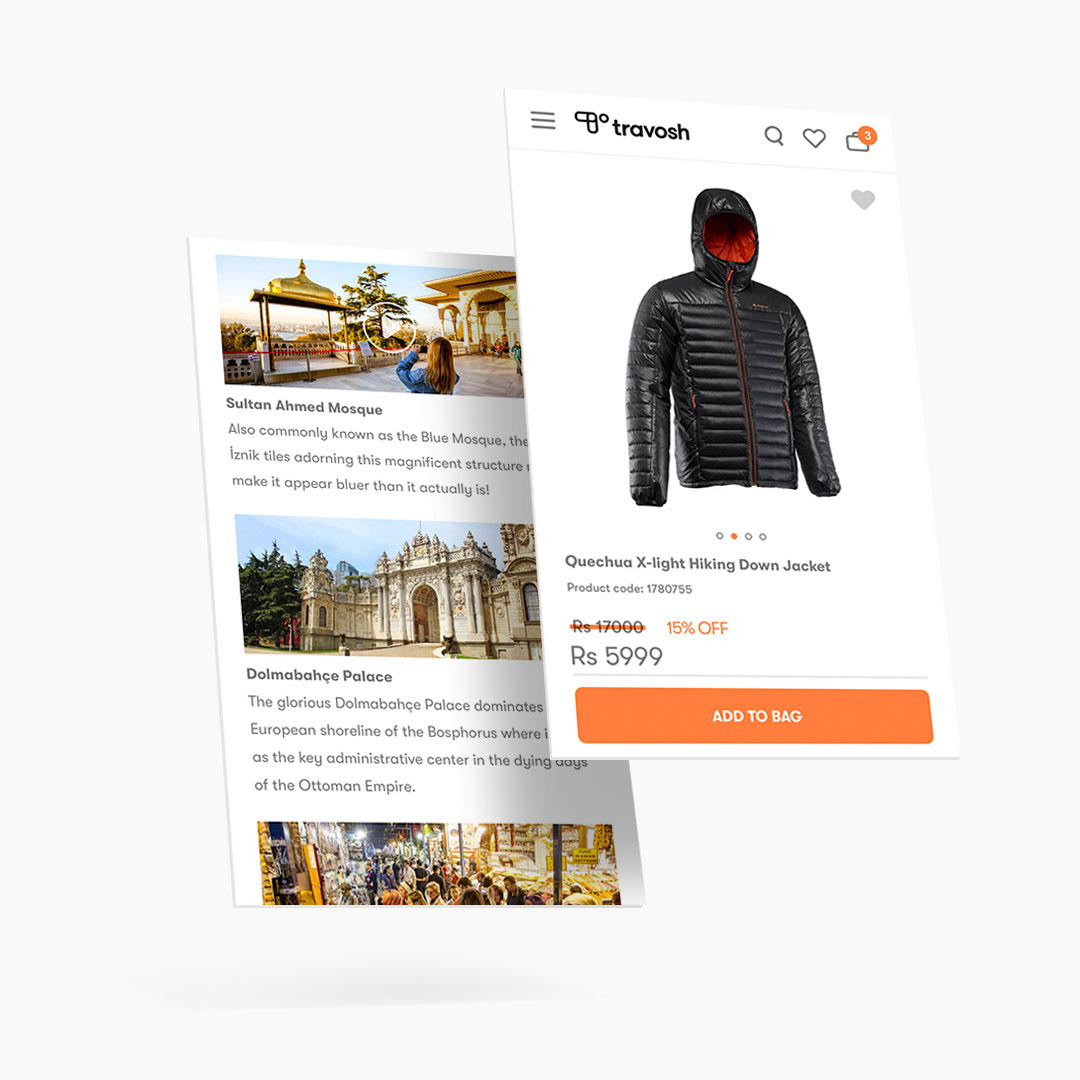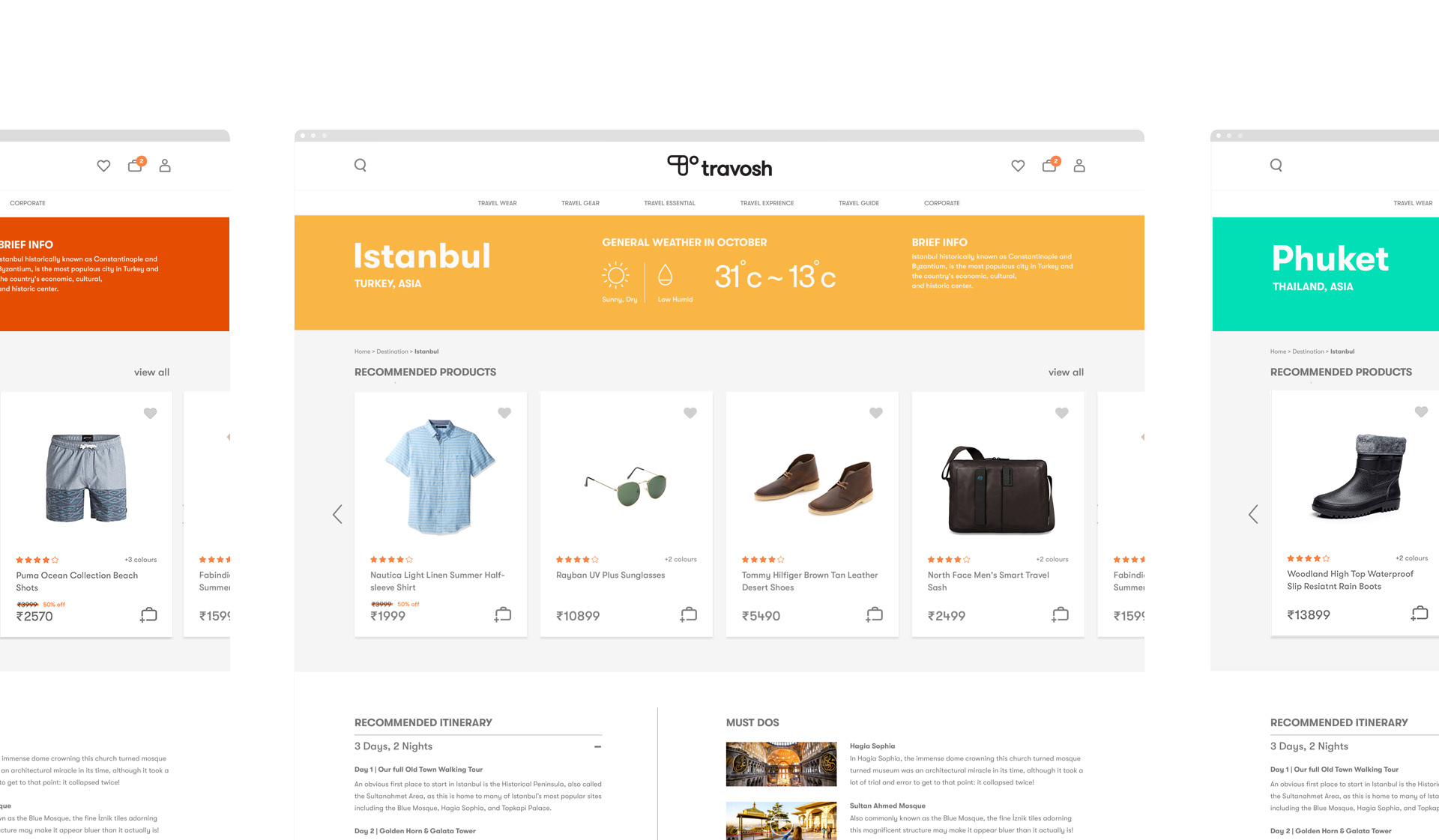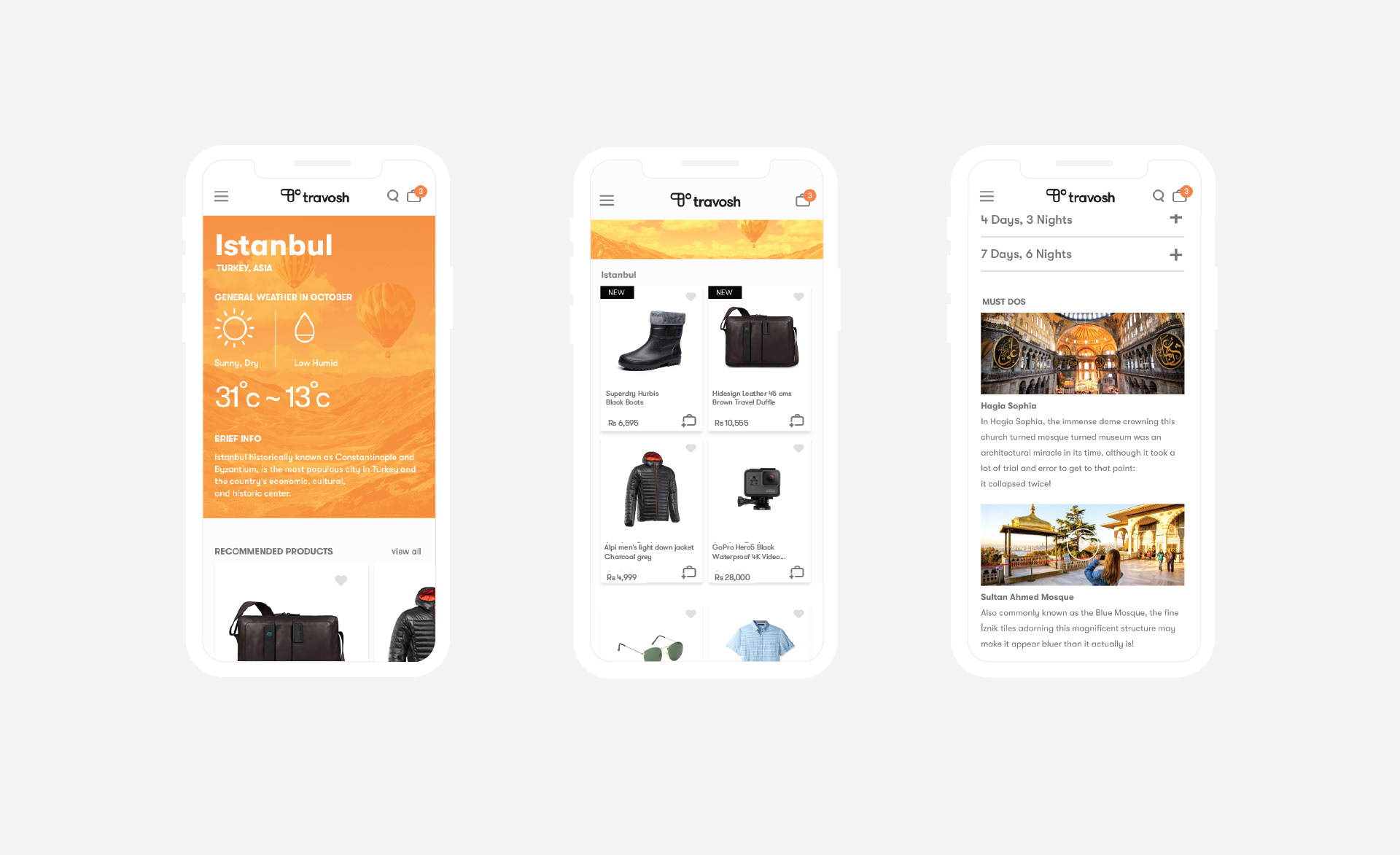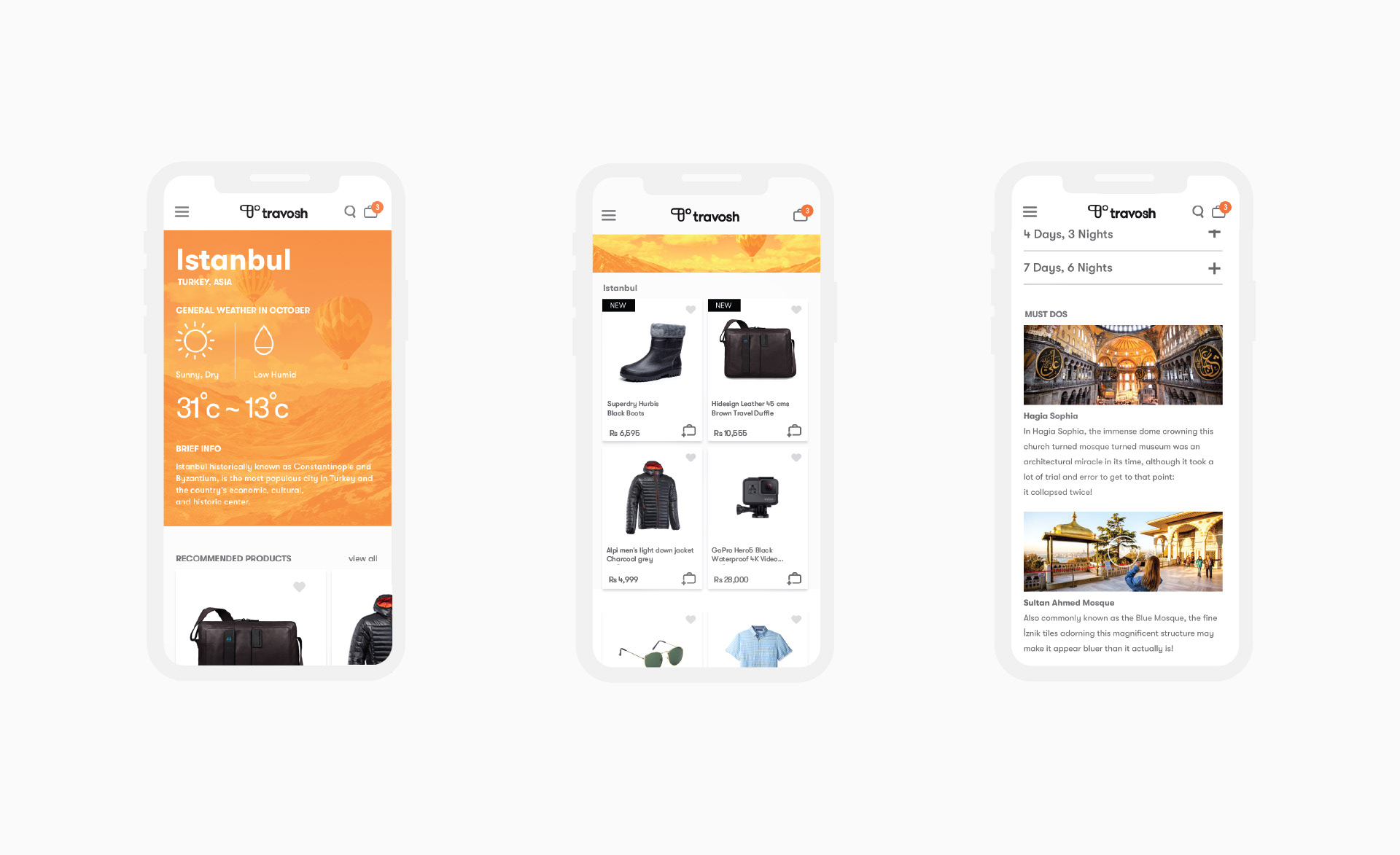 Curated products for various travel experiences
A traveller's soul is always gearing up for some travel experiences. These experience, be it an adventurous one or leisure, gives birth to different travel needs. We understood the dilemas a traveller faces getting ready for these journeys, and introduced a navigation for such experience specific curated products.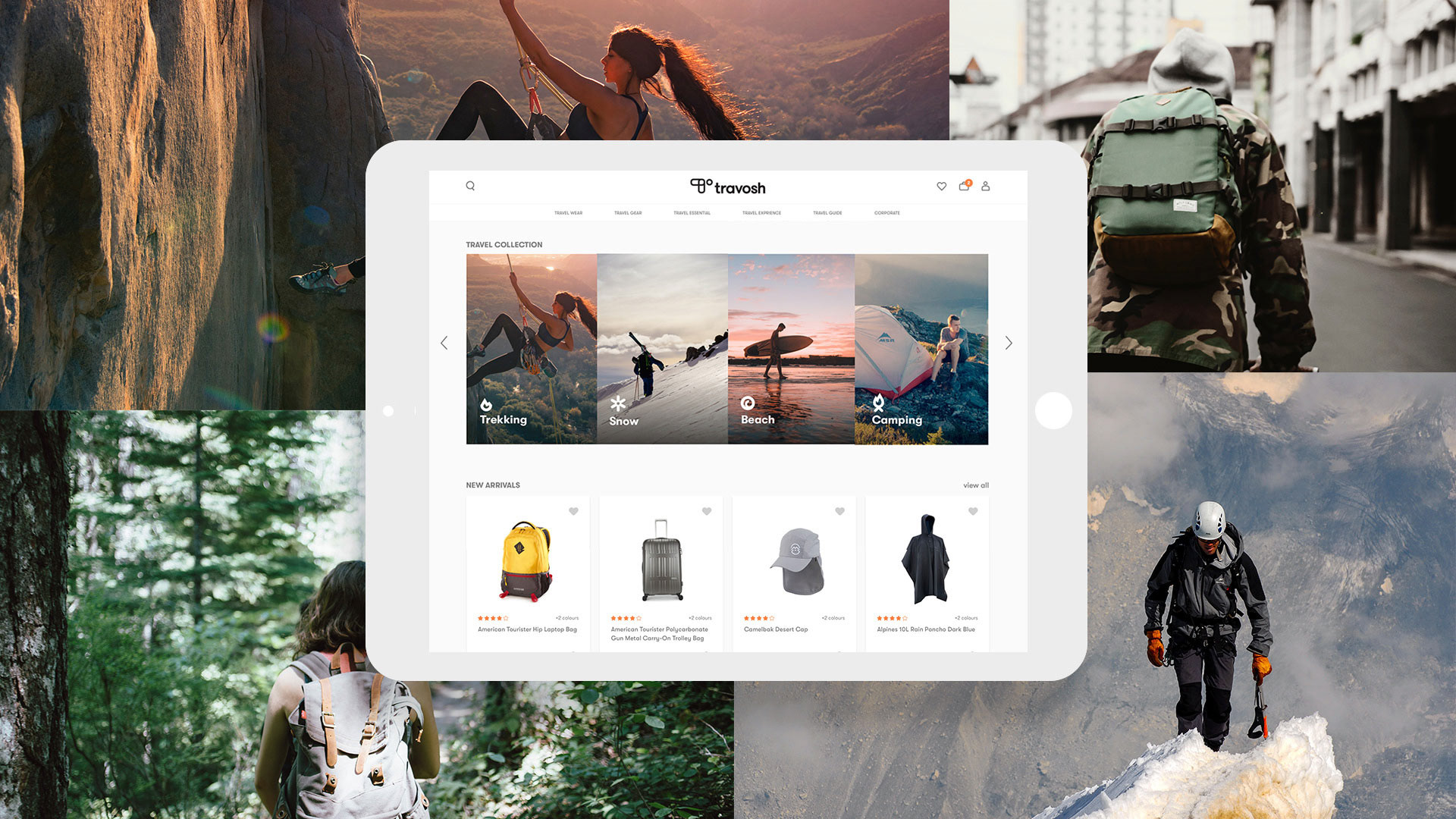 Quick and easy purchase process
A short and simple buying process, is the key to a hassle free shopping experience, as well as a successful eCommerce business. Our one step 'add to cart' process and sliding preview cart is ideal for a quick and transparent on the go shopping experience.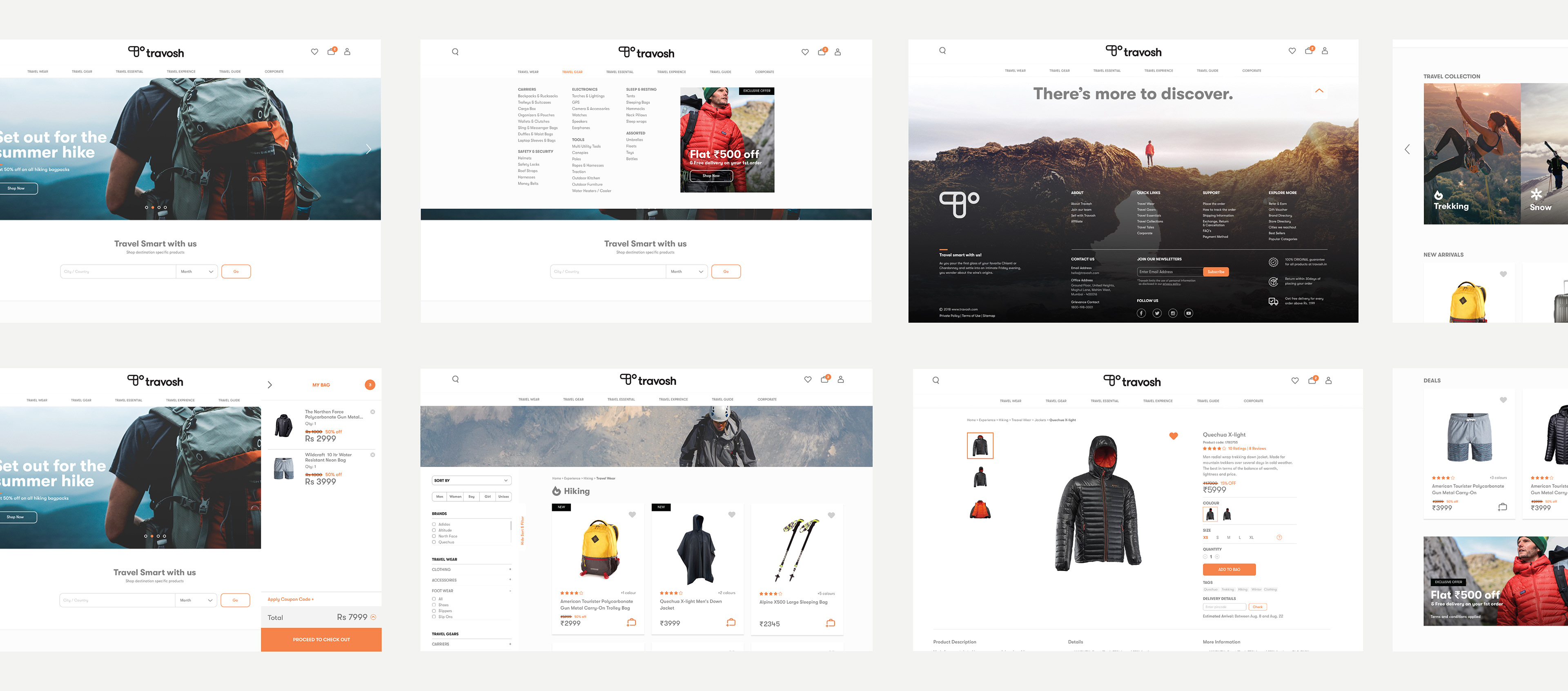 Shopping guide from expert travel bloggers
With the onset of the era of social media influencing, it is crucial to spread the word of the brand and it's expertise to all it's users and, gain their trust and attention. This is best achieved by introducing a blog for the stories of Travosh experts and their journeys. This blog not only provides exciting and useful travel informations, but also guides the readers in buying the products used by the Travosh experts for their various travels.